RedKnight's Marketing and Business Development Intern, Hannah, shares her top tips for making the most of a remote internship opportunity.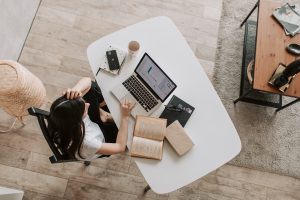 This week marks my 12th week with RedKnight Consultancy as a Marketing and Business Development Intern. When I first interviewed for the position in April, I never imagined that the internship would start on a remote basis. Let alone that now, in August, I'd still be working from home. I have never met RedKnight's directors in person, nor have I stepped foot into their office. However, I have learned a lot over the course of the last three months and gained valuable experience. Here are some of my top tips to succeed in a remote internship:
1. Communicate often
With everyone working from their respective homes or workspaces, it is important to keep in touch regularly. Please don't be afraid to reach out to a colleague if you need help with something! You can send them an email or a simple WhatsApp message in a matter of seconds. If something needs to be tackled in more depth, then a video call (at a time that works for everyone) can also be a great way to maintain productivity. At RedKnight Consultancy, we start each week with a team meeting held via Zoom. This is something that I've found really useful – it's a great way to catch up and set goals for the week ahead.
2. Be proactive
Remote working provides great opportunities to be proactive – a moment of inspiration can be developed into a fully-fledged idea and put into practice. As there are no colleagues in the immediate vicinity to provide constant support throughout the day, it is essential that you use your initiative and have belief in your own ability. I've found that as a remote intern, you're likely to have more responsibility and independence than you would if you were office-based. This isn't something you should fear – rather, the challenge should be embraced. This kind of experience will help prepare you for your future career.
3. Get yourself into a routine
Without the regularity of a commute, routines can be a little harder to achieve and pin down. I try to wake up at the same time each day and then I get myself ready as if I am heading to the office. This prepares me for the working day ahead. When you have a routine in place, you can also be sure of the times you're available for social and recreational activities. This is an important way of breaking up the day when your home becomes your office. I try to make time each day to go for a walk and get some fresh air. For me, this has been key to maintaining a healthy work-life balance.
4. Be organised
Organisation is the key to success when it comes to remote internships. I've found that carefully planning my time at the start of each week works well for me. It has introduced structure into my working week, subsequently increasing my motivation and productivity levels. Additionally, make sure your laptop is charged at the start of each day, have a pen and paper handy for meetings, and check your emails regularly; these small steps will all help you to have a productive working day.
5. Enjoy the benefits of home working
Remote internships have numerous advantages – home comforts can be a real treat when you're working hard! The lack of a commute that could take up around two hours of your day can be replaced with a slightly later wake up time: a good night's sleep will stand you in good stead to feel refreshed and motivated for the day ahead. In addition, remote internships are great in that there are no longer any geographical limitations. You can work from anywhere with an internet connection! I think that it would be great for remote internships to remain a long-term option. This would make work experience opportunities more accessible to those who live outside London and other major cities.
I hope that these tips are useful for anyone else who finds themselves in this unusual position. Working from home for the entirety of my internship was unexpected, but it hasn't affected my overall experience. I am pleased to say that I will be continuing in my role with RedKnight, again on a remote basis – a clear sign that remote internships can work well for both interns and businesses alike! If you have any questions about remote internships or remote onboarding, please feel free to get in touch.