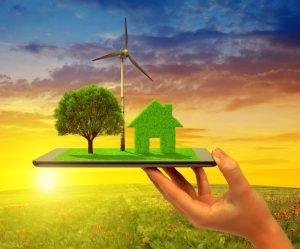 RedKnight is delighted to celebrate its 5th birthday with another grant funding success story! A successful application to Eureka Eurostars has secured €345,566 for the South Wales-based Compound Semiconductor Centre Ltd and its partners. The REDEEMA consortium also includes Glasgow-based Amethyst Research Ltd and VTEC Lasers & Sensors, based in Eindhoven.
The project, titled REsonant cavity DEtectors for Environmental Monitoring Applications (REDEEMA), aims to design and develop an inexpensive manufacturable (III-V semiconductor material based) resonant cavity enhanced photodiode (RCE-PD) infrared (IR) sensing array for monitoring greenhouse gases (GHGs), such as carbon dioxide, methane, and nitrous oxide. A paradigm in high sensitivity mid-IR GHG sensing, the REDEEMA sensor will aid existing analytical instrumentation in the intelligent field deployment of the quantitative analysers and in the determination of gas sources.
Many chemical compounds in the earth's atmosphere act as GHGs, including water vapour, carbon dioxide, and methane. The percentage of environmentally significant trace gases is rising due to increased human activity. There is a critical need to track these changes to monitor the extent of global changes in the GHG composition of the atmosphere. It is also crucial to actively identify the sources of these emissions so that action can be taken to mitigate and effectively manage the releases.
In this regard, Amethyst's RCE-PD incorporates a unique and revolutionary design, which will be used in the development of next-generation IR detectors capable of meeting the demands of a vast range of applications. The resulting gas-detection system developed through REDEEMA will significantly improve performance over nearest state-of-the-art IR detectors, opening many new opportunities with environmental applications.
Dr. Wyn Meredith, Director at CSC, said of the successful application:
"The Redknight team supported our proposal by taking ownership of the specific requirements of the Eurostars application process, allowing our own staff to focus on the essence of the technical and commercial proposition. This accelerated the development of the bid and ultimately was a key factor in a successful outcome in a highly competitive process."
Helping companies grow is RedKnight's core mission. For our assistance in putting together a competitive proposal for your business, contact us today.