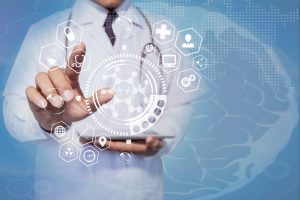 RedKnight is delighted to have supported South Wales based start-up, Thermetrix Ltd, with a successful application to the Eureka Eurostars programme. Since 2017, Thermetrix have designed and manufactured hardware and software for medical devices in personal healthcare. The company, along with two SME partners, Quantificare (France) and SymblCrowd (Germany), will now receive €578, 684 in grant funding to develop its Multi-Modal Medical Mapper (M4).
Aims
M4 aims to deliver a prototype of a portable camera that integrates 3D scanning, visual and (thermal) infrared imaging modalities. As the user moves the camera along the human body under investigation, it will capture and display the three representational characteristics in a single 3D representation. During the scanning process, graphical overlays will adaptively guide the user. This will minimise the amount of training required and improve the reliability and repeatability of scans.
The project is disruptive in the digital medical devices sector as there are no existing devices capable of performing all functions at the same time. Therefore, this device opens entirely new possibilities for prevention, diagnosis, and treatment, in areas including Diabetic Foot Ulcer treatment, medical aesthetics and wound healing. Importantly, M4 addresses a pressing need for more accurate, reliable devices for wound measurement and management of higher practicality. It will also be usable by all healthcare professionals in various settings and at commoditised price points.
Outcomes
Combined, the global Diabetic Foot Ulcer, Wound Care Management and Medical Aesthetics markets are worth $53.77bn. They pose significant socio-economic challenges to both patients and healthcare systems worldwide. With anticipated high reliability and accuracy, M4 could reduce costs by 13%, saving the EU over $1 billion each year. Crucially, M4 could also save patient lives and improve quality of life for many.
Dr Peter Plassmann, Founder and CEO at Thermetrix said of the success,
"It would have been impossible for us to navigate the complex and time-consuming Eurostars application process on our own. The support from RedKnight was crucial for the success in this highly competitive competition. "
You can read about more of our recent success stories here. If you would like to discuss your own project with one of our expert advisers, please contact us today.