According to the latest report from the European Commission, 2822 proposals for the SME Instrument Phase 1 have been submitted before the latest cut-off date on 13 February 2019, to compete for a chance to win a lump sum funding of €50,000 to carry out a concept and feasibility study.
Overall, SMEs from 39 countries submitted proposals, with Spanish applicants sitting at the top of the charts with the biggest number of proposals for this batch (428), followed closely by Italian (384) and Swedish applicants (160).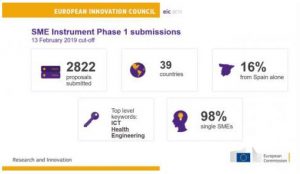 The most popular areas of activity for applicants were ICT, health and engineering. Since 2018, the SME Instrument is part of the European Innovation Council (EIC) pilot. A novelty under the EIC pilot is that applications are fully bottom-up. Therefore as there are no longer set topics, proposals are classified according to keywords introduced by applicants. The top keywords introduced were, ICT, health and engineering and technology.
Stay tuned – results will come out in late March 2019. 
Source: EASME
We at RedKnight wish to thank all the participants who entrusted us with their proposals and we wish all our clients the best of luck!! The next round of calls for this competitions will start from 7 May 2019. If you are interested in competing for the SME Instrument (Phase 1 or Phase 2), but you are not sure where to begin, contact RedKnight for a free consultancy.