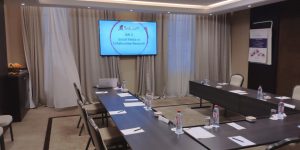 Another month, another successful Masterclass delivered by our team of experts!
This time, RedKnight went right into the heart of Europe to deliver a 2-day session in Brussels on the important of Impact in EC Funded Research & Innovation projects. The course, which took place between 18th and 19th February 2019, was a new seminar organised by our trusted associates at the European Academy, with the aim of teaching the importance of Communication Dissemination and Exploitation activities within European funded projects.
For this occasion, we sent our Project Manager, Matteo Radice, who was thrilled to share his experience – gathered managing the BreathSpec project –  with the attendees. Upon his return to RedKnight HQ, Matteo said, "It was an amazing experience and I really enjoyed it. The class was very receptive and engaging and there were some very interesting discussions going on throughout both days. Also, having a representative from the European Commission provided incredible added value. I believe Communication and Dissemination activities deserve much more recognition amongst all research and innovation projects, as they are of utmost importance in letting European taxpayers know how the EC is investing in innovative ideas for the future." Talking more in depth about the course, Matteo went on saying, "The course is designed to give participants a thorough overview of what the EC is expecting from project participants and how to best deliver it; from the legal boundaries, to the most effective storytelling techniques and how to better engage with social media. It's packed of information and the participants loved it!"
For any news about this course and all the other RedKnight masterclasses, visit our website www.redknightconsultancy.co.uk.